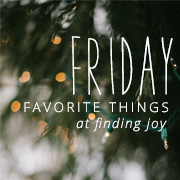 We have had some new follower's join us this week, so I just wanted to take the time to say hello and welcome them! We are just getting started around here, but I love that you come and visit and leave feedback. I always try to reply to comments pretty quickly, so don't hesitate to leave me a comment. I love them! No, really, I do. I LOVE THEM! Also, there is currently my first ever blog series taking place this month! I am very excited and proud of it. If you need to catch up, you can go
here
and it will bring you up to date.
Around here on Friday's I like to do what is called Favorite Things Friday. That is where I compile photo's from the past week of thing's we have done or enjoyed and I share them with you all. It really helps me to slow down and think about the week we just had. As some of you may already know, I am a SAHM to a toddler so sometimes we have days that are very trying. It is nice to have all of these sweet moments captured so that I can look back on them and say, "Yes, yes,
that
was good this week."
We had some
BEAUTIFUL
weather this week! L and I were able to get out of the house for some walks and some play time in the backyard. Then, the weather turned rainy, we had a tornado warning, and now it is chilly again. :( Despite the rainy and chilly weather yesterday and today, we have had a really great week around here.
Here are some of my favorite moments this week:
Our first walk of the season!
Hunting Easter eggs at Nana and Papa's
Our (shared) daffodils bloomed!
Toddler squeals of delight as they run in the fresh, warm air.
Getting into more imaginative play by playing "Mommy"
Big brother cats thinking they are safe from their little sister
Two words: FLIP FLOPS!!
And there you have it!
Don't forget!
On
Sunday
there will be a special post so be watching for that announcement. Also, next week is the third installment in the
The Month of 30 Series
. We will be talking about the things that I have learned the past (almost) thirty years and my twenties. I will be throwing in a couple of other posts too, so it should be a pretty active week around here next week!
Have a great weekend everyone!
Until next time,