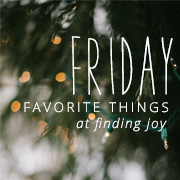 I am going to try something new here on the blog as a way to keep me writing and as a way for me to focus after those sometimes long weeks of being a SAHM. I want to thank Rachel over at
Finding Joy
for inviting all of us to partake in this great idea!
Here are some of my favorite things from this week:
playing
I love watching L play
with things that are new to her.
baby/toddler bonds
Cousins are the best, don't ya know?
L loves her new cousin J.
Here she is "rocking" J.
giggles
She loves to laugh.
I couldn't help but capture this moment.
reading
Mommy reading time is the best.
writing
I love to write.
I love even more that you all find
what I have to say valid
and can even laugh along with me
when I am having a rough day.
Have a great weekend everyone!
Until next time,